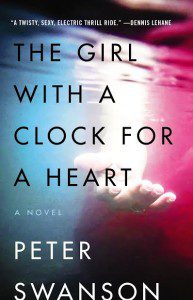 On an ordinary Friday evening at his favorite Boston tavern, George Foss's comfortable, predictable life is shattered when a beautiful woman sits down at the bar, the same woman who vanished without a trace twenty years ago.
Liana Dector isn't just an ex-girlfriend, the first love George couldn't forget. She's also a dangerous enigma and possibly a cold-blooded killer wanted by the police. Suddenly, she's back—and she needs George's help. Ruthless men believe she stole some money . . . and will do whatever it takes to get it back.
George knows Liana is trouble. But he can't say no—he never could—a choice that will plunge him into a terrifying whirlpool of lies, secrets, betrayal, and murder from which there is no sure escape.
Bold and masterful, full of malicious foreboding and subtle surprises, The Girl with a Clock for a Heart is an addictive, nonstop thriller—an ever-tightening coil of suspense that grips you right up to its electrifying end.
---
"An edge-of-your-seat psychological thriller that dares you to turn the next page . . . This novel burns faster and hotter than a lit fuse, and you'll be feeling its heat long after the explosive ending."
— WILEY CASH, BESTSELLING AUTHOR OF A LAND MORE KIND THAN HOME
"In The Girl with a Clock for a Heart a long-lost lover resurfaces, with chaos in her wake. A must read!"
— HARPER'S BAZAAR
"The pace is fast… and the plot genuinely twisty… [It is] seemingly pre-measured for the movies…often to good effect; all in all, a quick, deft, promising first crime novel."
— KIRKUS REVIEWS
"Roller coaster thrill-fest of a ride, filled with deliciously wicked moments of mystery, murder, and mayhem, double-cross and deception. A cerebral noir thriller debut."
— NEW YORK JOURNAL OF BOOKS 
"While the story is a good one the ending is top drawer. Don't peek and ruin the whole book. And definitely don't read the last page ahead."
— BOOKLOONS.COM 
"What do you say when a woman who broke your heart years ago and is wanted for questioning in connection to a murder pops back into your life to ask a favor? If she's as alluring as Liana Dector, you say, 'Yes.' And hope you survive the decision. The Girl with a Clock for a Heart is a twisty, sexy, electric thrill ride and an absolute blast from start to finish."
— DENNIS LEHANE, BESTSELLING AUTHOR OF MYSTIC RIVER AND SHUTTER ISLAND
"The Girl with a Clock for a Heart has a plot that evokes Robert Parker and Dennis Lehane, a voice reminiscent of James M. Cain and Raymond Chandler, and a femme fatale for the ages: mysterious, brilliant, possibly monstrous—and irresistibly alluring. It is a sparkling, haunting debut."
— SCOTT STOSSEL, EDITOR OF THE ATLANTIC AND AUTHOR OF MY AGE OF ANXIETY