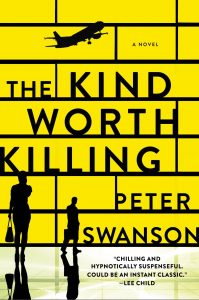 On a night flight from London to Boston, Ted Severson meets the stunning and mysterious Lily Kintner. Sharing one too many martinis, the strangers begin to play a game of truth, revealing very intimate details about themselves. Ted talks about his marriage that's going stale and his wife Miranda, who he's sure is cheating on him. Ted and his wife were a mismatch from the start—he the rich businessman, she the artistic free spirit—a contrast that once inflamed their passion, but has now become a cliché.
But their game turns a little darker when Ted jokes that he could kill Miranda for what she's done. Lily, without missing a beat, says calmly, "I'd like to help." After all, some people are the kind worth killing, like a lying, stinking, cheating spouse. . . .
Back in Boston, Ted and Lily's twisted bond grows stronger as they begin to plot Miranda's demise. But there are a few things about Lily's past that she hasn't shared with Ted, namely her experience in the art and craft of murder, a journey that began in her very precocious youth.
Suddenly these co-conspirators are embroiled in a chilling game of cat-and-mouse, one they both cannot survive . . . with a shrewd and very determined detective on their tail.
---
"Is The Kind Worth Killing the next Gone Girl? This homage to Patricia Highsmith's classic. Strangers on a Train shares a lot of Gone Girl's hallmarks but cranks up the volume on each. There aren't just two unreliable narrators, there are four. There isn't just one enormous, game-changing twist. Try three, including one at the end that will take your breath away. You'll also lose count of all the sociopaths. Or are they psychopaths? It doesn't matter—just know that they're each deranged but oh-so-compelling."
— Entertainment Weekly
"Chilling and hypnotically suspenseful … could be an instant classic."
— Lee Child, author of Personal
"This devilishly clever noir thriller could have been called "Strangers on a Plane." It opens with a chance meeting in an airport bar that's strongly reminiscent of what happens in Strangers on a Train, the Patricia Highsmith novel-turned-Alfred Hitchcock movie classic… To reveal more of the plot would risk giving away some of the head-spinning surprises that make The Kind Worth Killing such an intoxicating read…The Kind Worth Killing, had it come out 60 years ago, would have made a great Hitchcock movie.
That said, the book will inevitably earn more comparisons to a contemporary work, Gillian Flynn's phenomenally popular Gone Girl… But unlike most books that fail to live up to the hype, this one makes good on the promise, right down to the chilling final paragraph."
— Fort Worth Star Telegram
"A fun read, full of switchbacks and double crosses… With classic misdirection, Swanson distracts us from the details — changing up murderers and victims fast enough to keep us reading. And, implausibly, rooting for the cold-blooded killer at this thriller's core."
— Boston Globe
"The Kind Worth Killing is not your ordinary murder mystery; it is an extraordinarily well-written tale of deceit and revenge told by a very gifted writer. Peter Swanson takes us on a harrowing journey through the hearts and minds of a cast of characters who seem normal on the outside, but are deliciously abnormal on the inside. The twists are not just in the plot; they are also in the heads of the plotters."
— Nelson DeMille
"A twisty tale of warring sociopaths [and] a good companion to similar stories by Laura Lippman and Gillian Flynn."
— Booklist
"Revenge has rarely been served colder than in Swanson's exceptional thriller, his second standalone after 2013's The Girl with a Clock for a Heart. When Ted Severson, a wealthy Boston entrepreneur, and Lily Kintner, an attractive archivist at Winslow College outside Boston, meet by chance in a Heathrow airport lounge, they trade intimate secrets: Ted wants to kill his unfaithful wife, Miranda-and Lily, who's about Miranda's age, wants to help. Unbeknownst to Ted, Lily has made a career of dispassionate homicide, at one point musing, 'to take another life was, in many ways, the greatest expression of what it meant to be alive.' While Ted and Lily hatch their devious scheme back in Boston, police detective Henry Kimball tries to untangle the web of deceit that surrounds Lily. With scalpel-sharp prose, Swanson probes the nature of coldblooded evil. Few will be prepared for the crushing climax."
— Publishers Weekly (starred review)
"The Kind Worth Killing might be first truly unputdownable book of 2015… A whole plethora of gasping surprises and gutting reveals that'll will keep you on the edge of the seat all to the end… I predict that The Kind Worth Killing will be one of the huge successes of the 2015. I certainly hope so as it's such an addictive and seductive read… Simply brilliant stuff."
— Upcoming4me.com
"Gripping, elegantly and stylishly written, and extremely hard to put down!"
— Sophie Hannah, author of The Monogram Murders and Kind of Cruel
"Filled with double-timers and double-crossers, cold-eyed stalkers and cold-blooded murderers, The Kind Worth Killing paints a riveting, disturbing picture of marriage gone horribly awry, with no shortage of startling surprises. If you're engaged to get married, by all means read something else."
— Chris Pavone, author of The Expats
"A work of lovely violence and graceful malevolence, The Kind Worth Killing slips into your life like a stiletto in the ribs. This is a book that launches Peter Swanson straight into the ranks of the killer elite, alongside Tana French and Gillian Flynn. He's the real deal."
— Joe Hill, author of NOS4A2